TORONTO — In the midst of the COVID-19 pandemic, Mark Conroy recalls one important piece of advice given to him by a former boss: "Never let a disaster go wasted."
These wise words, says Silversea's Managing Director-The Americas, can be applied by all travel agents and travel companies, who he encourages to take this time to "get their businesses in line" and "improve their systems and processes" so that when global travel resumes, "they'll be on the forefront instead of the background."
Conroy, who took part in a virtual media briefing yesterday along with Silversea's Chief Marketing Officer Barbara Muckermann, SVP Hotel Operations Damien O'Connor, and Vice President Silversea Cruises Ecuador Fernando Delgado, is forecasting a spike in bookings "once people see our ships moving" and reassuring agents that the situation has "calmed down" somewhat, with travellers rebooking their cruises and taking advantage of Silversea's Cruise with Confidence program.
Silversea is eyeing to resume departures in mid-July following weeks of suspension due to the global health crisis.
"Initially, our customers started cancelling even though their cruises weren't until October, November, December and even into 2021 because they were panicked about their own wealth, their health and whether this company is going to survive," he says. "But one of the great things about being part of a larger organization like Royal Caribbean is that it pretty much assures that we will survive. And so what we're doing through our travel partners is asking the consumer to wait and see what happens, and it's really worked."
In addition to providing an overview of Silversea's new commission and travel policies in the midst of COVID-19, Conroy and his colleagues discussed Silversea's five new-builds, all of which have been confirmed by the company's CEO, Roberto Martinoli, as well as Silversea's forecast for 2021.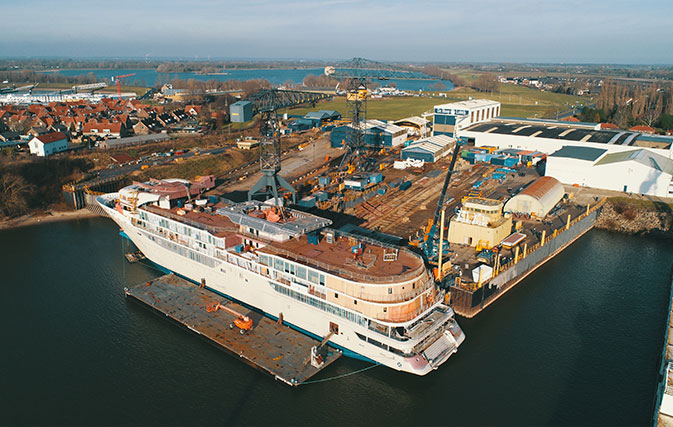 SILVER MOON
The sister ship to Silver Muse, currently being built in Ancona, Italy, has been delayed due to the temporary closure of the Fincantieri shipyard. As a result, Silversea has announced that the Silver Moon's first cruises, all of which were sold out, have been cancelled, including its inaugural voyage on Aug. 8.
The first trip that is not currently cancelled, says Muckermann, is the one scheduled for Oct. 2 though the cruise line cannot say with 100% certainty that this is a firm date.
"What we've done is conservatively cancelled operations more or less during the period of time that the shipyard is not working at full force," she says. "We'll see as soon as Fincantieri can give us a date, and our travel advisors and guests will be the first to know when the inaugural of the Silver Moon will take place."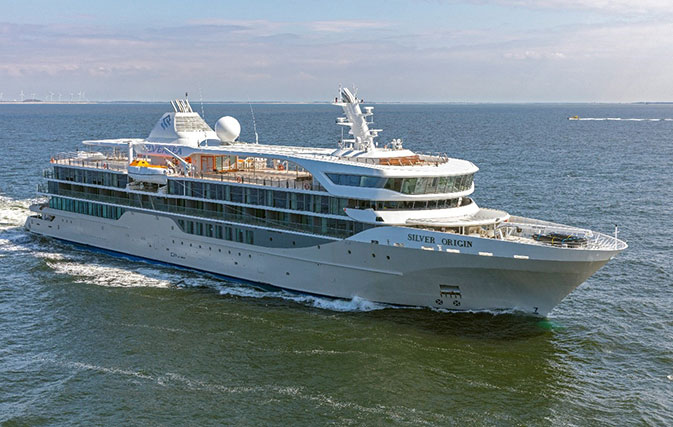 SILVER ORIGIN
Despite the many extraordinary restrictions that COVID-19 has placed on the travel industry, Silversea was still able to complete sea trials of the Silver Origin. Through the magic of technology, the cruise line was able to successfully complete the first remote sea trials in the history of modern shipping from April 27-29 off the coast of Goeree-Overflakkee.
Necessitated by the travel ban, which prevented sub-contractors from reaching the ship, Silver Origin's sea trials included a dynamic positioning acceptance test that tested the ship's ability to remain within 10 cm of a fixed point without dropping anchor. The system was remotely tuned and calibrated by a third party in St. Petersburg, Russia, over 1,800 km away. A fast internet connection was set up on board to enable near-instant communication between both parties and, using a headset and a camera, an operative from St. Petersburg completed maneuvering tests. The ship's Captain, meanwhile, acted as his lookout from onboard.
The finishing touches are now being applied to Silver Origin, ahead of the ship's delivery in summer 2020. Currently docked in Pernis in the Netherlands, Silver Origin will set sail for the Galapagos Islands after being delivered to Silversea Cruises.
WHAT'S BOOKING FOR 2021?
According to Muckermann, Silversea has noted two important trends for 2021 in the wake of the pandemic: the percentage of guests ages 61-80 is significantly higher for 2021 bookings compared to previous years, and that Silversea Expedition is seeing overbookings, which can be attributed to guests preferring more remote destinations with less crowds.
Antarctica and Med expeditions are doing really well, she adds, with the Arctic also seeing really strong bookings for next summer.
As for the destination with the least number of cancellations? Hats off to the Galapagos, which Muckermann says is trending very high.
---
For more information about Silversea's Cruise with Confidence policy, go to https://www.silversea.com/temporary-amendment-to-cancellation-policy.html.
For more information about Silversea's commencement of travel, go to https://www.silversea.com/information-on-itinerary-changes.html.