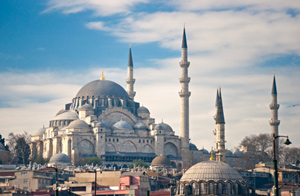 ISTANBUL — Turkish Airlines has five flights per week from Toronto to Istanbul, connecting Canada's largest city to the wonders of Istanbul, Turkey's biggest city and former capital of the Ottoman and Byzantine Empires.
The Turkish Airlines flight leaves Toronto Lester B. Pearson Airport at 11 p.m. and after a 10-hour flight lands in Istanbul at about 4 p.m. local time the next day.
From Istanbul, Turkish Airlines connects to over 200 destinations in Eastern Europe, the Middle East, Asia and beyond. Cities include Mumbai, Kiev, Abu Dhabi, Bangkok, Beirut and Casablanca. Transit passengers with a layover of more than six hours can enjoy a free city tour of Istanbul.
Turkish Airlines is a Star Alliance member and was voted the #1 Airline in Europe by Skytrax in 2011.
The airline offers three classes of service from Toronto: Business class, Comfort class and Economy. Business class enjoys fully reclining seats, while Comfort has upgraded seating. Travellers can enjoy Comfort for approximately $800 more than economy per round trip, while Business is about $2,000 more.
Passengers will enjoy the onboard entertainment system that offers live TV, as well as WiFi access on the Boeing 777-300ER. Food is catered out of Istanbul, offering what the company believes to be "a step above usual airplane food."
For more information, Darlene Paolucci is the Business Development & Marketing Manager based in Toronto. She can be reached at darlene_paolucci@thycanada.com or at 416-312-2034. The booking office can be reached at 416-596-6886 and for more information visit thycanada.com.