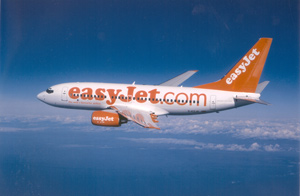 MIAMI — Low-cost carrier easyJet, the UK's largest airline, and Amadeus have launched system enhancements that will allow travel agents around the world, in a phased approach, to book low-cost carriers with the same booking flow as that used for traditional carriers, regardless of the airline's distribution preferences.
easyJet is the first carrier to become a 'light ticketing' airline in the Amadeus system, thereby greatly improving the way in which travel agents access, book and provide service when selling easyJet flights.  The development is expected to increase bookings with the new pricing, ticketing and booking functionality offering the same look and feel as for traditional or flag carriers.
For the first time, traditional shopping, booking and back-office flows will be combined with real-time dynamic fares and a full ancillary offering provided through easyJet's XML connection with Amadeus. This will give all travel agencies, including corporations and TMCs, which use Amadeus, even better access to easyJet's inventory than before.
Key functionalities to help travel agents include:
Increased flexibility: agents can now use standard pricing workflows and modify easyJet PNRs for flights and services as they would when booking a traditional airline.
Full mid- and back-office integration and sales reporting: easyJet bookings will be fully integrated in the agent's internal and external reporting – the enhancement helps issue a ticket number which acts as a locator throughout the fulfillment process and makes it seamless for agents. This means that adapting back office systems will become more efficient, exactly in the same way as for full service carriers.
Seamless availability flow: Travel agents can access easyJet content from the standard Neutral Availability and Schedule displays alongside all other airlines in one single screen.