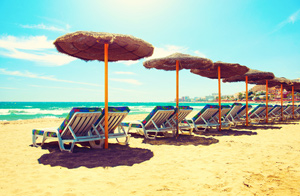 TORONTO — Starting today and running for the next four weeks, Sunquest is bringing back its 'Sun Deal' incentive, offering agents the chance to win up to 20x Loyalty Points, trips for two and even a grand prize of $2,000 cash.
Valid on all new Sunquest package bookings (air-only, land-only, cruise and online B2B2C bookings are not eligible)
made between Oct. 23 and Nov. 19, 2013, for travel anytime, from any gateway and to any destination, with Sun Deal, everyone is a winner.
Once the booking is complete, agents simply need to go online to SunquestAgent.ca, enter their valid booking number and play to win.
Prizes include between 2X and 20X Loyalty Points that can be redeemed for a gift card (among other things) valued up to $100, an all-inclusive Sunquest trip for two, including roundtrip air on WestJet, each week, and a grand prize draw at the end of the promotion for $2,000 cash.

After each play, Sunquest will send an e-mail to the agent confirming the prize that was won. Bonus Loyalty Points will be automatically added to the agent's account every week, and winners of the weekly trip prizes and $2,000 grand prize will be announced on SunquestAgent.ca and contacted by Sunquest's Sales department.
The weekly trip prize draws will take place every Wednesday, and the grand prize draw will take place on Nov. 20, 2013, with the winner randomly selected from all of the bookings played during the incentive.