TORONTO — The 37th edition of Canadian Music Week proved an appropriate platform for Brand USA's 'Hear the Music, Experience the USA' campaign, showcased with a travel industry event yesterday hosted by Brand USA and several of its tourism board partners.
'Hear the Music, Experience the USA' was launched earlier this year across digital and social platforms in Canada, to showcase music-themed journeys in 10 cities across the U.S.
Taking inspiration from its second IMAX film, 'America's Musical Journey', released in 2018, the new campaign highlights the incredible diversity, history and talent that has created American music. The U.S. is the largest music market worldwide, representing one third of recorded music revenue globally. It also offers a diverse range of world-class music themed events and attractions that bring visitors from around the globe. The focus on Canada is logical, as the leading source of international visitors to the U.S.
Also at the event, which took place at the Sheraton Centre Toronto Hotel, Brand USA highlighted the recent launch of GoUSATV, a streaming video app available on iOS and Android that delivers premium travel and music content to smartphone users globally.
Brand USA, Air Canada, and U.S. exhibitors were on hand to showcase their destinations through musical performances and presentations.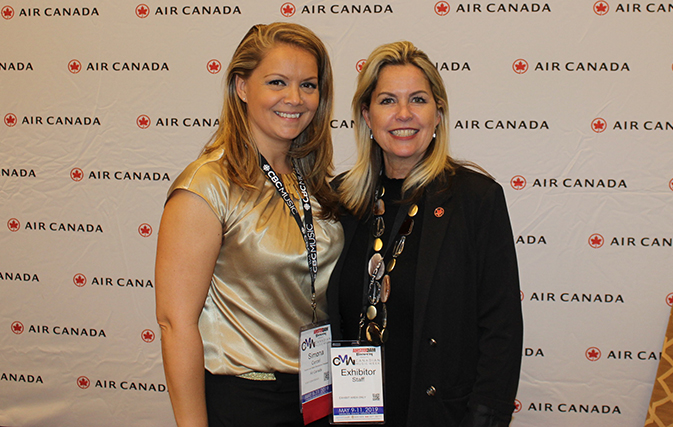 Jackie Ennis, Senior Director of Global Development at Brand USA, introduced Colin Skerritt, the newly appointed Regional Director, Canada. He is the first Brand USA employee outside of the U.S., which Skerritt says highlights the importance of the Canadian market to the organization.
Skerrit commented on music as the choice of focus for the new campaign: "One of the key ways that we interact is through music, so we saw this as a great opportunity looking at our culture and at the same time supporting Canadian culture and the Canadian music industry."
Brand USA is expecting another growth year for visitors from Canada. "In terms of overall numbers, our official data is showing we are currently at a good place – between 2017 and 2023 we are showing an increase in overall projected travel to the U.S.," said Skerritt.
Yesterday's event also welcomed local tourist board representatives from Visit California, Virginia and Georgia, all music heavyweights in the U.S. tourism scene.
CALIFORNIA
In introducing California and its variety of music attractions, Ally Carlson, Account Manager for Visit California, highlighted notable venues and festivals of interest to Canadian travellers.
Venues include Fillmore Auditorium (now known as The Fillmore) in San Francisco, famous for artists including Jimi Hendrix and James Brown; the Troubadour in West Hollywood; and Whisky a Go Go, which was inducted into the Rock and Roll Hall of Fame in 2006.
Highlighted events include Coachella, a two-weekend event that takes place in Coachella Valley and incorporates music, art and food; the Monterey Jazz Festival which features over 500 artists and is the longest continuously-running jazz festival in the world; and the Concord Jazz Festival planning to celebrate its 50th anniversary this year. Also notable is Stagecoach, a large country music event hosted in the same location as Coachella.
Carlson closed her presentation by letting everyone know there are still a few spaces left for agents to register for this year's IPW, taking place in Anaheim June 1-5. Special performances include L.A.-based DJ Jason Bentley and Natasha Bedingfield.
VIRGINIA
Leah Ross, Executive Director for The Birthplace of Country Music, a non-profit organization located in Virginia, says Bristol, VA is the official birthplace of country music. The non-profit includes a museum where guests can interact with displays, texts and artefacts that showcase the story and evolution of country music. The award-winning Bristol Rhythm & Roots Reunion festival that takes place along State Street in Historic Downtown Bristol includes more than 120 live music acts over the course of a three-day weekend in September.
Ross also mentioned Radio Bristol, a network of channels featuring original programming through recordings and live sessions from the Birthplace of Country Museum and the surrounding region. Radio Bristol reaches the world through online media players and mobile app, showcasing the diversity of American roots music from the early recording era to today.
And here's something you might not have known: the slogan 'Virginia is for Lovers' celebrates 50 years this year.
GEORGIA
Georgia is home to more than 75 annual music festivals, from Shaky Knees and Music Midtown to Imagine Music Festival and ONE MusicFest, says Lisa Love, Division Director for Georgia Department of Economic Development. Georgia's music history museums include the Ma Rainey House and Blues Museum in Columbus and The Allman Brothers Band Museum in Macon.
Included was a short performance from The Command Sisters, who covered multiple Georgia performers such as Outkast, James Brown and The Allman Brothers Band.