TORONTO — VIA Rail says most of its services will be progressively back in operation as of Tuesday, March 3 including between Toronto-Montréal and Toronto-Ottawa, now that the weeks-long rail blockade is coming to an end.
In an update on its website posted March 1, VIA also notes that The Canadian will be operating two departures: one on Wednesday, March 4, between Toronto-Vancouver and another on Friday, March 6, between Vancouver and Toronto. Further departures will be confirmed in the coming days.
All current reservations on those segments will be protected. "As VIA Rail is reaching out directly to passengers with reservations to update them on the latest developments, we would like to inform all our customers that this transition will take time and have an impact on the reservation system. We thank them for their patience and understanding."
Here's a look at the routes in service: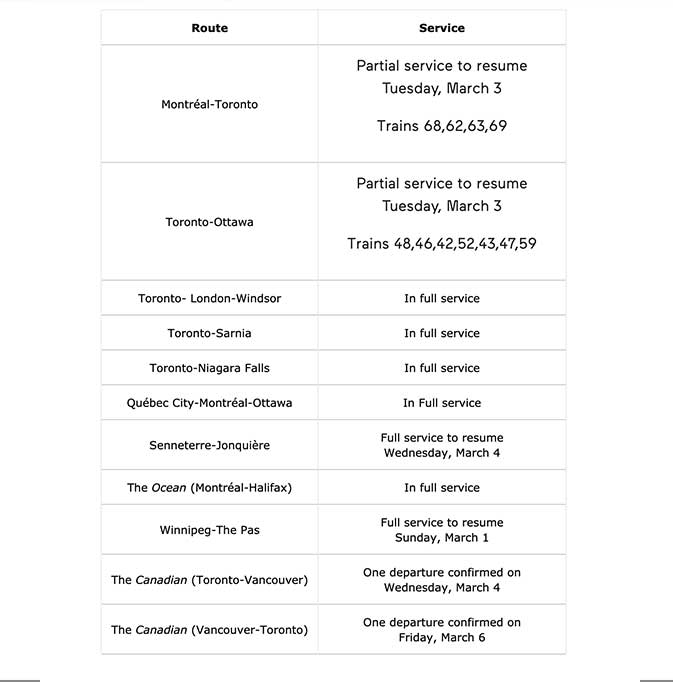 VIA says that as of Feb. 28, some 940 trains had been cancelled because of the blockades.
More than 164,000 passengers have been affected. "We continue to work with the infrastructure owner, CN Rail, on making sure that normal service can resume on all routes and that passengers can be welcomed back on board our trains as quickly as possible."
VIA is also providing a summary of the latest cancellations …

VIA says passengers holding a ticket for which the first trip's scheduled departure has not yet passed and is no later than March 11, have the option of autonomously cancelling online for a full refund with no service charges, even if additional segments fall after March 11.
Passengers may also get a refund for a return ticket scheduled after March 11 as long as the first portion of the trip was scheduled no later than that date.
Other questions about refunds are answered at VIA Rail's website, at viarail.ca.