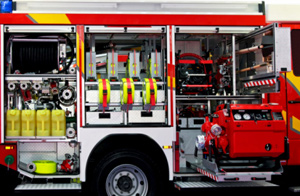 TORONTO — Sunwing is once again giving back to a vacation destination that is especially popular among its travellers by supporting local fire departments in the Dominican Republic.
Sunwing Airlines recently teamed up with an Ontario resident, Carl Eggiman, to transport free of charge much needed equipment donated to the fire departments in Punta Cana and surrounding cities.
This is the second time this year that Sunwing has supported Carl Eggiman's efforts to provide complimentary air transport of the firefighting equipment to the destination. In 2010, this project started with the donation of a single fire truck to the area of Punta Cana Bavaro. Since then, with the support of Sunwing Airlines, they have delivered personal protective equipment and medical supplies to four other fire departments in the east end of the country.
"When we asked for Sunwing's support with this initiative, the company was ecstatic to be part of such an important cause. Words cannot express my heartfelt thanks to the Sunwing family for all their support", said Carl Eggiman, a Belleville, Ontario resident and member of the Rotary Club of Punta Cana.
The success of Sunwing's partnership with Eggiman has led to Firefighters without Borders joining them to supply donated firefighting equipment to all 165 fire departments in the Dominican Republic that require assistance.
"Sunwing is pleased to support Carl Eggiman and his wife in this great effort," said Mark Williams, President of Sunwing Airlines. "This much needed equipment will help save lives in those communities that may not have the same level of emergency services that we have here in Canada."
"The firefighters were extremely happy to receive the equipment," said Helen McErlean, Sunwing Destination Supervisor in Punta Cana. "This generous donation and caring effort has been very touching for everyone. Thanks to this donation, the local firefighters can continue doing their good work to protect those in our community."