LOS ANGELES — Viking River Cruises has announced new details of its latest ship, the Viking Ra, which will sail the Nile River starting March 2018.
Recently acquired the vessel has been stripped down to the steel to undergo a complete renovation. Tailored to accommodate just 48 guests, Viking Ra will sail on a new Egypt cruisetour, 'Pharaohs & Pyramids' next March.
"Egypt is one of the most intriguing countries in the world, and it remains a top destination for many of our guests," said Torstein Hagen, Chairman of Viking Cruises. "For two decades, we have led the industry in river cruising with our innovative ship design and itineraries that bring our guests closer to the cultures of the world. We are committed to Egypt, and with the introduction of Viking Ra, we look forward to providing our award-winning service to our guests on the Nile – and to their experiencing this culturally rich region in the Viking way."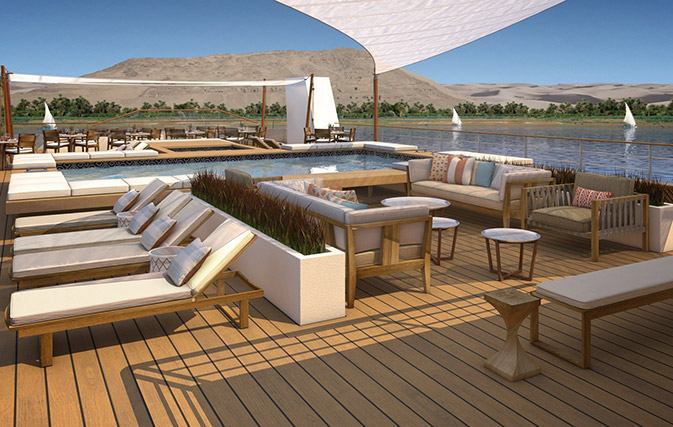 The 12-day 'Pharaohs & Pyramids' itinerary begins with a three-night stay at a first-class hotel in Cairo, where guests can visit such iconic sites as the Great Pyramids, the new Grand Egyptian Museum and the Mosque of Muhammad Ali. Guests will then fly to Luxor where they'll visit the Temples of Luxor and Karnak before boarding Viking Ra for an eight-day roundtrip cruise on the Nile River to Aswan. The journey concludes with a flight back to Cairo for a final night in the city.
Upon completion, the all-suite Viking Ra – named in honour of the Egyptian sun god Ra – will boast 24 staterooms equipped with hotel-style bed, luxury linens, sofa, private bathroom with shower, air conditioning and flatscreen television. Ship amenities include two Jacuzzis, a pool at the back of the ship, a spa, restaurant and a lounge.