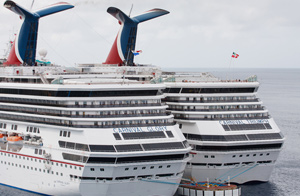 MIAMI — Carnival has simplified its fare structure by reducing the number of core fare options from six to three.
The change is a result of travel agent and consumer feedback indicating that the line's fare structure was too complicated and made it difficult to book with Carnival. The revised fare structure will become effective Oct. 31 for all future sailings.
Moving forward, the core fare structure will be simplified to include three fares:
Fun Select: This cruise option features a two-category stateroom upgrade and guests choose their stateroom assignment. The fare is fully refundable before final payment, offering a premium and flexible choice for guests.
Early Saver: Offers Carnival's unique price protection guarantee and is the ideal fare for closing early business. This fare closes three months prior to sailing for cruises of five days or fewer and five months prior to sailing for cruises of six days or more. Guests choose their stateroom assignment with Early Saver. This fare includes a non-refundable deposit and $50 administrative fee for changes to the reservation.
Super Saver: Generally opens when Early Saver closes. The deposit is non-refundable and the stateroom is assigned by Carnival. Super Saver is a good selection for close-in travellers.
The Fun Select Plus, Easy Saver and Instant Saver fare code options will no longer be offered as part of the simplification. Qualifying fares such as past guest, resident and military as well as special promotional fares will continue to be available.
"Based on input from our travel agents, we modified the core fare structure to include those fare codes that offered the customer value and choice," said Brenda Yester, senior vice president of revenue management for Carnival Cruise Lines. "By offering three fare choices instead of six, it simplifies the decision-making process and makes the overall sales experience easier for our travel professionals and their clients."
Many travel professionals have supported the pricing simplification project. "We want to thank our travel professionals who gave us invaluable input through our quarterly travel agent survey, focus groups and Carnival Conversations. Their feedback has helped us tremendously in finalizing this new structure," said Joni Rein, vice president of worldwide sales for Carnival Cruise Lines.
Travel agents may find more information on GoCCL.com.