LINSTEAD, Jamaica — Canadian travel advisors joined forces with the Canadian-based Helping Hands Jamaica Foundation (HHJF) to help build a preschool and kindergarten in Linstead, St. Catherine, Jamaica earlier this month.
A philanthropic team of donors and supporters including Kisko Products employees, travel advisors and other supporters assisted in the construction of Bourne Gordon's Pre-school and Kindergarten. In all more than 25 volunteers took part.
The five-classroom build was completed with an office area, sick bay and staff and student bathrooms. The school structure also has a kitchen stocked with appliances and amenities such as a water harvesting system, fence and playground. Funding for the project was largely provided by Kisko Products, the Josephs family as well as the Estate of Rupert Cupidore.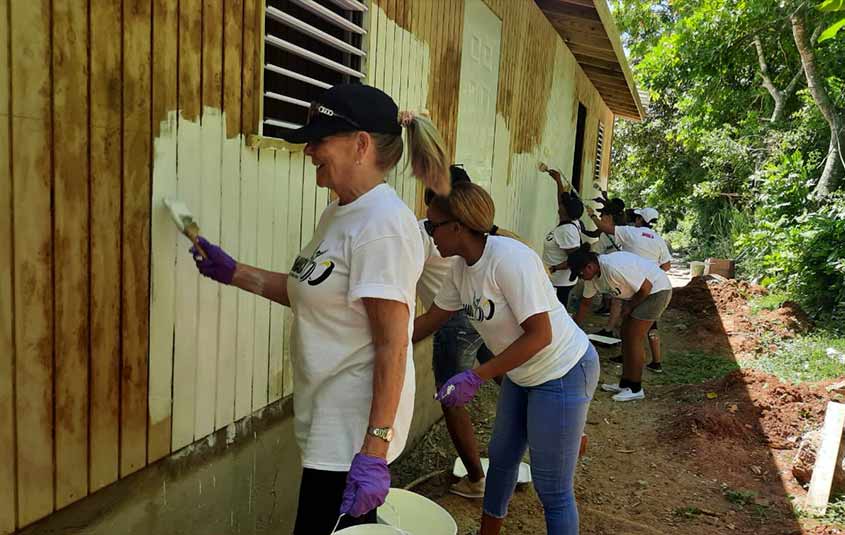 The JTB says the new school will provide a more conducive educational environment for 75 – 100 children between the ages of three and five years old, where they will learn and develop in a safe and welcoming space. In addition, it will alleviate the challenges of inadequate classroom space, overcrowding, and improper sanitation and provide increased security for students and staff, says the JTB.
"We were thrilled to host this particular group of travel agents as they've continually demonstrated their love of Jamaica here in Canada by supporting our philanthropic efforts on the island," said Angella Bennett, Regional Director, Jamaica Tourist Board Canada. "Every agent who joined this trip passionately used their voice and platforms to raise funds in support of the Helping Hands Foundation, and it was important to us that they be involved in this very special 25th school build in Jamaica."
---
Main picture caption: The Helping Hands Jamaica Foundation volunteer team included Canadian travel advisors and representatives from the Jamaica Tourist Board's Montego Bay and Canadian teams. Seen here are (back row to front, left to right): Stacian Virtue, JTB Montego Bay; Theresa Stephenson; Alisa Infanti; Rashmi Krishna; Isobel Mickiewicz; Eileen Rust; Olga Leonatti; Bernadette Pakert; Natasha Borota, The IT Factor Ltd; Pauline Witter; Marlene Peters; Judy Nash, JTB Canada; and Johanne Berthiaume.