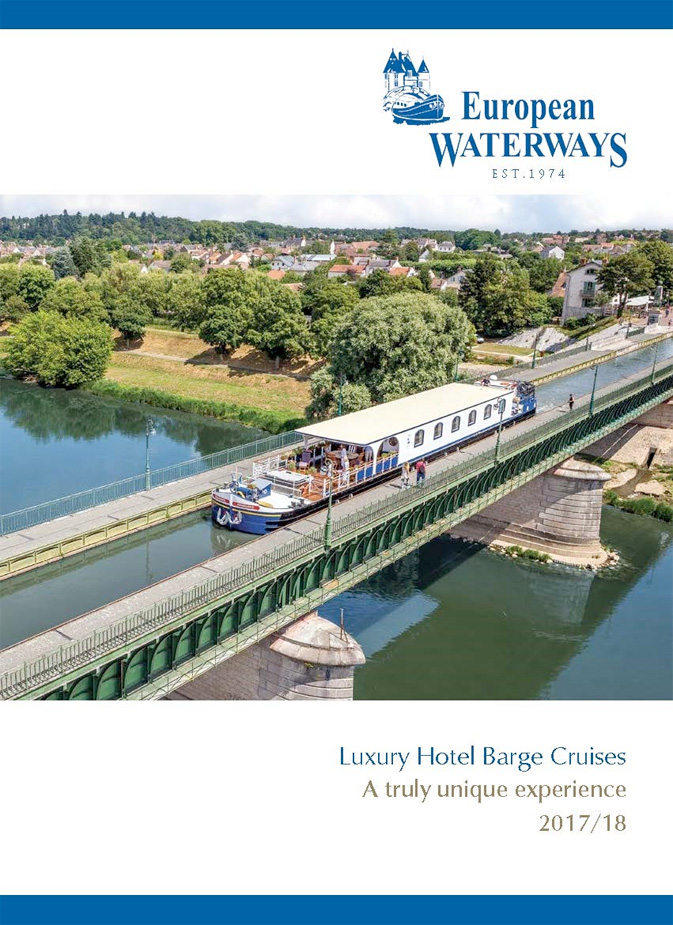 NEW YORK — European Waterways has released its 2017 luxury hotel barge cruising brochure, bigger and more colourful than ever before.
Highlighting additional departures and amenities, the brochure features a new double-page map showing the various cruise routes through Europe's wine and whisky regions, vivid illustrations of regional cuisine, as well as introductions to the Gascony and Champagne regions of France.
Also included is the cruise line's new 2017 price list featuring 10% off select departures on a wide range of itineraries in the spring and summer.
Enjoying its first full season will be the exceptionally spacious eight-passenger Finesse, a luxurious, double-decker hotel barge that cruises the scenic River Saône and Canal du Centre in Southern Burgundy. New departures have also been added to the popular 'Champagne Cruises' on the historic River Marne and the Canal Lateral à la Marne in France. Also featured are the longer waterway journeys available on some hotel barges as they reposition themselves to new cruising areas through Holland, Belgium and France.
Among the cruise highlights is the 'Panache' on the Canal de la Marne au Rhin. The cruise offers a mix of French and Germanic cultures, tours of Strasbourg and the Alsace Wine Route, plus a private wine tasting and a ride on the Arzviller boat elevator, which carries the barge 450 feet high up the hillside in just minutes.
Panache is offering 10% off cabin bookings and full boat charters for select cruises in July and the entire month of August.
"Whatever your interest, we have the perfect cruise for you," said Derek Banks, director of European Waterways.  "The luxury hotel barging experience attracts a wide range of travelers who are looking for an immersive experience beyond the typical, often impersonal large-ship cruising itinerary. They can stop almost anywhere they wish along the cruise route to walk the gentle towpaths and explore on foot or bicycle the surrounding countryside. You can't do that on a large river boat with 100 or 200 people!"
For more information go to gobarging.com.