On my recent travels to Europe I visited the city of Berlin, touted as Europe's hippest urban destination. No trip to Germany is complete without a visit to its capital.
Due to cheap rents, artists from all over the world flocked to this gritty, creative and (at a time) broke city. Cutting-edge art exhibits and street art now abound along with live theatre and bands, all competing for your attention with the two combined cities, the former East and West.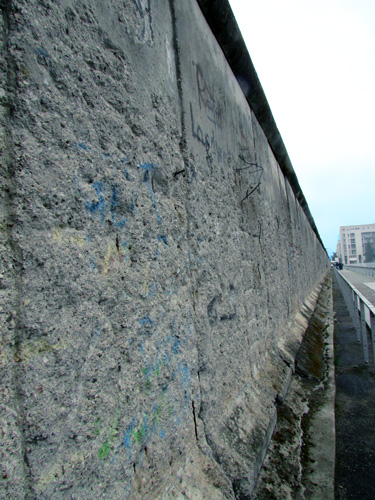 No matter where you go, it's hard to escape Berlin's recent history as a divided city. You're brought face to face with the legacy of World War II and the contrasts of East and West.  This year marks the 25th anniversary of the fall of the Berlin Wall.  It's still a major tourist attraction and oddly so – how a structure that no longer stands affects the city even in its absence.
I marvelled at Berlin's architecture, green space (which covers one-third of the city), and welcoming disposition of the locals, which I found endearing. Everyone spoke English which made navigating the city that much easier.  It was everything I imagined it to be and more.
A trip to Berlin, as with any city, offers its own unique experiences.  Here are some that I felt were worth sharing:
– Beer Gardens – As soon as the sun comes out, beer gardens sprout all over the city. Pub culture is iconic and lingering over a 'pils' is a long-standing tradition.
– Eat a German Breakfast – This major affair involves everything from several types of breads, cold cuts, cheeses and pate. Good idea to show up hungry. I splurged and booked at the Reichstag (their parliament building) which has a restaurant on top of the building under the glass dome offering spectacular views.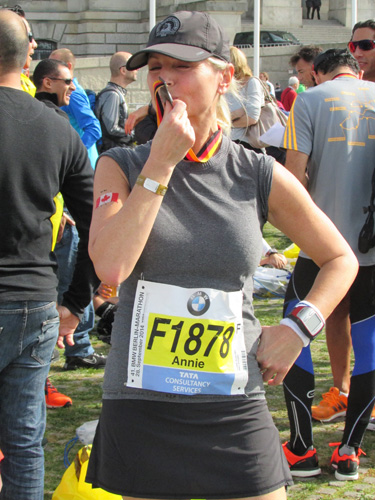 – Christmas Markets – Held outdoors, Berlin hosts as many as 60 small markets each year. They make for easy gift buying for presents to take back home.
– Truth be told, my reason for choosing Berlin as a vacation spot this year came as no accident.  The city is host to one of the six world major marathons and, where runners are concerned, it becomes a very enticing 'cross off your list' destination.
– Each September the city is flooded with international runners looking to complete 'the majors' (guilty as charged), by combining both passions of travel and running.
– This year was no exception as the 41st Berlin Marathon welcomed over 45,000 runners this past weekend.  The organization for such a large mass was brilliant – it is Germany, after all – and the route was a runner's dream: completely flat.
– Marathoners enjoyed a start in Tiergarten, which is Berlin's version of New York's Central Park, and continued with a labyrinth of turns around both East and West Berlin.  The grand finale is running through the Brandenburg Gates, evoking a sense of history, and in some inexplicable way, becoming a part of it.
Happy Running
Annie on the Run