The island of one love, reggae-infused culture and palm-fringed picturesque beaches all best describe the island of Jamaica and my recent trip destination.
One of my personal favourites of the Caribbean islands, I was happy to be back in the Jamaican sun and eager to embrace the start of a new adventure. Although Jamaica has much to be proud of, what particularly stands out for me is their genuine warmth and hospitality while sharing their little island of paradise, even if only for a short time.
This return visit was special as I was travelling on behalf of the Yellowbird Foundation Charity, and, with the help of the the Jamaican Tourist Office, a recruited team of enthusiastic travel agents from across Canada. We were ready to explore the newest all-inclusive resort offerings, take in some local Jamaican experiences and participate in Negril's Reggae Marathon.
Our week started out with a stay at the beautiful Iberostar Rose Hall Beach Resort, just minutes outside of Montego Bay, where we savoured fine dinning and artfully designed large open public spaces while enjoying the comforts of our exquisitely appointed hotel rooms.
In the Runaway Bay area we embarked on a side trip to Green Grotto Caves, believed to have been a haven for pirates and runaway slaves. These days it's home to a multitude of bats. Our entry warranted us all to wear fashionable hairnets and hard hats. Not certain even now if this was to avert hitting your head on a stalactite or protection from swooping bats. Nonetheless, the caves were spectacular and what made it even more enjoyable was our witty guide who had us in stitches and entertained us the entire time.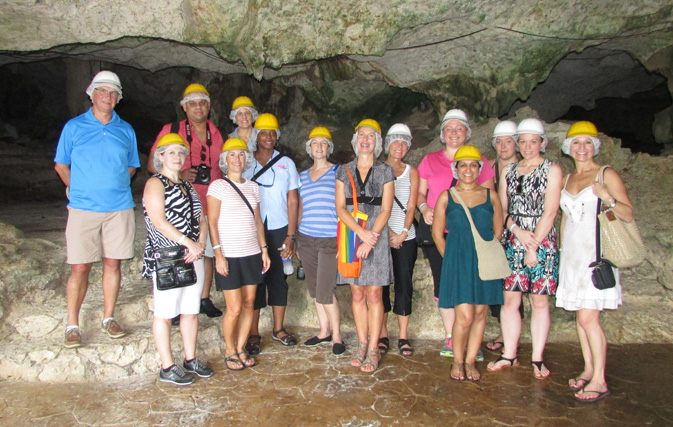 Another excursion that I would highly recommend is an evening visit to the famed Rose Hall Great House. According to legend, the 18th century Georgian mansion is haunted by the late Annie Palmer, also known as the White Witch. As we moved from room to room and listened to the storytelling, we were met by modern-day ghosts who popped up where you least suspected and had us shrieking in freight at every turn. Truth be told, if we had a chance to do it again, it would be a resounding 'YES!"
The tail end of our visit was to Negril, known as one of the most laid-back places in Jamaica. Here we had the pleasure of staying at the all-inclusive Beaches Negril located directly on Seven Mile Beach. I have stayed at this property a few times and love the low-key ambience and friendliness of the staff. Sesame Street's Bert and Ernie greeted us and had us dancing in a conga line in no time at all. During our stay I had the opportunity to not only sample a variety of restaurants, but also relax on the lazy river in the kids' area along (and take a few runs down the waterslides!).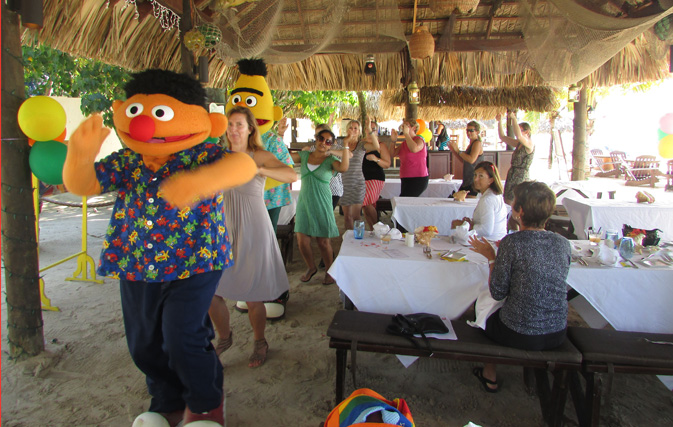 As the trip was quickly winding down it was time to start thinking about our upcoming race. As tradition holds, the Reggae Marathon hosted its gourmet pre-race pasta party that was well attended from runners all over the world. Our team stood out in our glow-in-th-e-dark fluorescent running shirts while partaking in the festivities and fueling up on the much-needed carbs for the early morning start.
The Reggae Marathon, which has now marked its 14th year, greeted its runners at the start line with fire-burning torches while Bob Marley and other reggae artists' music reverberated throughout the course.  Needless to say, our team revelled in their accomplishments that day and all were proud to bring home their well-earned medals along with some new found friendships.
Happy Running
Annie